ISTA Purity:
the working sample is separated into three component parts, pure seed, other seeds and inert matter. The percentage of each part is determined by weight. All species of seed and each kind of inert matter is identified as far as possible and its percentage by weight is determined.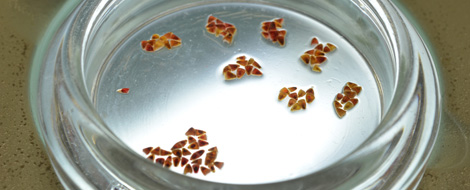 We need to know what your buyer asks for
Purity:

Three part separation

Other Seed Determination (OSD):

Crop and Weed Search

Germination:

400 seeds

TZ:

400 seeds
ISTA Bulk Exam: the Determination of Other Seeds is reported as a complete, limited, reduced or reduced-limited test.
Complete test:

Whole working sample is searched for all other seeds (complete test does not mean purity and germination)

Limited test:

Search is restricted to stated species in the whole working sample

Limited Reduced test:

Search for list of species in less than whole working sample

Reduced test:

Only part of the working sample is examined
ISTA Germination (400 seeds): to determine the percentage of live seeds that produce normal seedlings under favorable germination conditions.

ISTA Tetrazolium (400 seeds): to make a quick estimate of germination potential.

Moisture: to determine the moisture content of seeds. Sample must be in a moisture proof container.

1,000 Seed Weight: to determine the weight per 1,000 pure seeds of the submitted sample.

ISTA Endophyte: immunoblot method for the detection of Neotyphodium spp. in Festuca and Lolium spp.

Verification of Species: to determine the extent that the submitted sample conforms to the species or variety as requested by applicant. Lolium spp. Only (Fluorescence test)

Blue International Certificates (BIC):no lot size limits, not officially drawn

Orange International Certificates (OIC): Officially Drawn by ISTA Authorized Sampler, and Lot size limits

ISTA Report: is issued when species submitted are not under the ISTA rules, but tested in accordance to ISTA methodology.

Provisional certificate: is an ISTA Certificate issued before the completion of a test or tests. It is marked PROVISIONAL, and includes a statement under 'Other Determinations' that a final certificate will be issued upon completion.

Duplicate certificate: A duplicate is an exact printed copy, not a photo copy, of a completed ISTA certificate, marked DUPLICATE.

Authorized ISTA Sampler: A sampler who is trained to pull ISTA samples and who is authorized by an ISTA accredited lab. (Example: Oregon Dept. of Ag., Oregon State University, SGS-Mid West Seed Services, Agri Seed Testing Samplers).